Well it is time to look at the list… did I finish all? (see previous post at beginning of summer)
While I did not finish all, I feel that I was motivated to work on some very nice projects.  Some of these will move aside to make way for fall projects and some I will continue plodding along on. So here is the list… and pictures…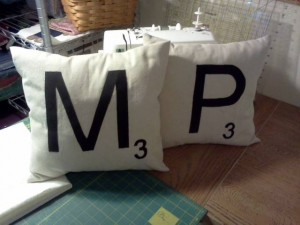 1. Scrabble Pillows… YES!  I finished these and gave away a couple to my son & daughter in law.  I love them… if you want to know how I made them just email me or do what I did, search Pinterest. (Yes this is very dangerous!  You will spend way too much time looking at all the cool stuff on Pinterest, but you will be very inspired too!)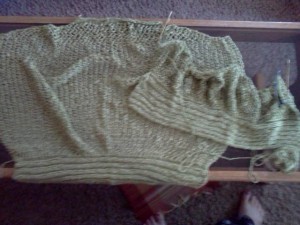 2.  Summer Sweater… Well not done, but I have half done!  I found that while it was a simple sweater to knit (i.e. I thought quick!)  It was not quick!  The yarn was different to use ( a natural cotton/linen) and I had to knit 2 together throughout the whole thing!  Slow going, but it is coming out nice.  Maybe for next summer?
3. DresdenQuilt… Well another not done.  I did work on it and found that I needed to make way more blocks than initially thought.  (12) 12" blocks only make a wall hanging!  I don not need anymore wall hangings so I wanted a bed quilt.  And who needs a twin sizeDresden?  So it will be queen sized… which means 48 blocks!  So I have about 20 done and 28 to go.  I now have a plan and all the fabrics needed though! ( I also discovered that I needed more white background fabric. )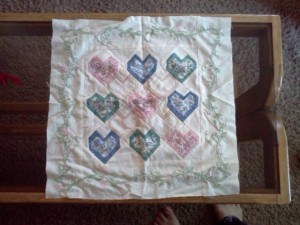 4.  Paper pieced hearts wallhanging… well the embroidery is almost done. I looked at it today and could not believe that I haven't finished it!  So this one will stay on the list for the fall.  I am going to finish it!  It is only 20 years old!
5.  Did I label and quilt the Aunt Grace quilt?  No… this quilt stayed at the quilt shop a little longer than planned.  I just got it back and intend finishing it this fall.  It is such a happy quilt and I can't wait to quilt it!
6.  Apron for Matt… YES!  I finished something!  Mailed and sent off to my son!
7.  Rayon batik tops… YES! I made these, BUT I think I will change them a bit as I don't love them.  For the price of the fabric I need to LOVE them!
8.  Knitted dishcloth… YES! DONE!  Simple and easy, one evening on the couch!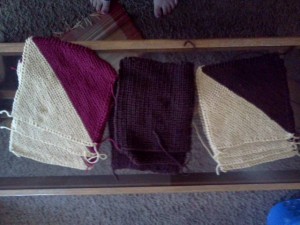 9.  Knit a Long  (or KAL)… no not done. L  as much as I tried.  (It just got so boring.)  But I do have a nice stack of blocks done and will continue to work on them at quilt guild meetings this year.
10.  Green Scarf with bamboo yarn… YES!  Finished and can't wait to wear it for fall!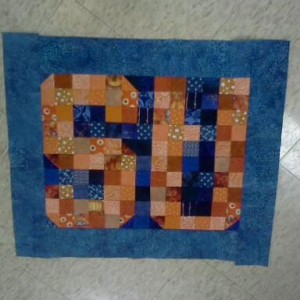 11. Bind SU Quilt… YES!  Done and hanging in quilt room! (I know this is #11 but Scrabble pillows were not actually on the original list!)
It's not that I didn't finish anything this summer!  I made a few samples for fall classes, I am always creating quilts for customers so I don't have as much time to create for myself and I did some writing.   I took the time to enjoy some upstate NY parks hiking with my dog.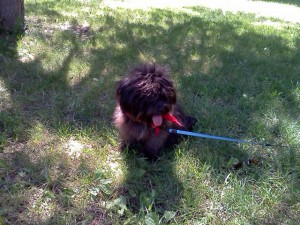 I will begin thinking about fall and the projects I want to FINISH! (Not to say I can't start a new one once in a while!)
So another season comes to a close… but another season begins… yeah!  I get to start again!  I hope you are looking at your UFO's and defining your LIST for fall too!!
For more information on the motivation behind THE LIST see the next post next week!!
Wenda