Summer style: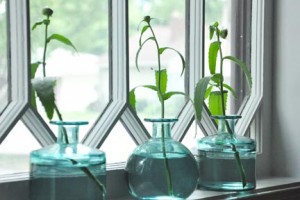 Summer is here and I thought my little blue vases by the front door needed some greenery… so my daisies looked ready to bloom and I placed one daisy bud in each.  Looks rather promising, what it always looks like at the beginning of a new season.
Along with new seasons  new ideas arise… new quilting, knitting, & crafting ideas.  Love the promise of a new project.  The crisp new fabric & unopened pattern just sitting there in a nice pretty pile, just waiting for me to dive in!  Splash!
My summer projects…
1. Scrabble pillows,
2. Zig-zag quilt
3.Knitting a summer top…
4.Chinook Scarf…found a yummy yarn and love to try a little lace work.
5.Apron for Matt
6.Batik Tops…easy for summer wear.  I have had the pattern forever!
7.My Dresden Plate quilt
8.  Hat's for Ian… July & Aug
9.  Little paper pieced heart quilt… this has been hanging around for almost 20 years!  Just need to finish the quilting.  I think I'll frame it and put it in my bathroom.
10.Finish some knitting UFO's… (ok this isn't new but I can dream that I will actually FINISH these projects!)
Some of these have been "ideas" for awhile.  I am just glad to be able to finish them! Several have been started and I got bored with, and now am going to finish!
Let's see what happens this summer… do I finish these or do I just dream? Be sure to check back at the end of summer to find out!!
Happy Summer!!