Just For Ewe Workshops & Lectures
Always learning, creating, & being inspired…
Workshops & lectures are a way for a group to learn more about a quilting technique at a group rate. Why one does what they do, how they do it, and then being inspired to create afterwards.  My workshops & lectures are a variety of techniques, history, and things I've learned along the way.  I hope to inspire you always be creating!
I am available for groups of 8 or more. Contact me for scheduling & rates.
---
Quilt-As-U-Go 5 Ways (& a few more for good measure)
Lecture
Each quilt is unique and different, therefore there are many methods for putting it together and quilting it. In this workshop you will learn 5+ metho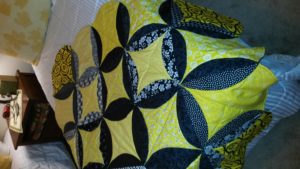 ds for putting your quilt together after you have quilted smaller, manageable sections.  Block by Block, Row by Row, Seam covering strips, and Borders & more! Lots of information.  Including a trunk show of samples!
Workshops
There are 2 workshops that go along with this lecture:
Quilt-As-U-G0: 4 ways & a 5th thrown in for good measure!  Learn each of the 5 techniques in a hands on workshop.  At the end of the workshop you will have a sample and notes of each technique to take home as a reference.
Quilt-As-U-Go Quilts:  Strips & 9's or It started with a Panel Quilt:  Create a quilt using a combination of 2 of the techniques from the lecture.
---
 Organize Me!
Lecture
Do you need help finding your sewing tools?  Have you purchased th
e same pattern twice just because you forgot you had it?  Do you find it is easier to shop for new fabrics because its just too difficult to search through piles and piles of fabric?  Do you have a "path" through your crafting room?  This lecture could be for you.
Become more productive, save money, save time, & enjoy the creative process once again.  While there is not a magic wand that will clear the clutter, a little bit of time and energy will help to move you closer to an more organized you.  Learn about the organized persons techniques, storage solutions, placement of tools, and keeping what you love.
There is not ONE method for everyone, but this lecture will help you to find the motivation to get started.
(Do you need more motivation?  I will come to you and help you with your craft organizing needs!)
Workshop
Get started on that fabric organization as we sort, organize, and weed through a portion of your fabric scraps.  Learn  fast cutting techniques & do I toss or keep? As you visualize your new clean crafting space!
---
Intro to the Square in a Square (R) Method
(making triangles fast, easy, and accurately!)
Lecture
The Square in a Square® is a rotary cutting and strip piecing tec
hnique allowing the quilter to produce intricate patterns with ease and accuracy, achieving perfect
points every time. Your units will be correctly sized, quilts will lay flatter, and you will be done sooner!  Learn how to create half square triangles, flying geese & more with ONE ruler!  Piece, press, & trim it's done!
Workshops
Square in a Square unit sampler: Make several triangle units: the basic Square in a Square block, flying geese, half square triangles, and more.  Also learn how to use this technique with almost any quilt pattern,  You will go home with samples & notes as a reference to create the units for your quilts. (must have a Square in a Square reference book & ruler )
Make a quilt top using the Square in a Square ruler. There will be several Square in a Square techniques in the top created.  Choice of quilt:  Constellation, Doublestar, Snails Tails, Berry Basket.  Let me know what you want to learn to create and we can find a quilt for your group.
---
Make Mine Modern
Lecture
The modern quilt craze seems to be everywhere.  But how does a traditional country quilter move her quilts in that direction, especially when she has a stash room full of "vintage" calicos?  This lecture follows my path toward quilts with a modern influence, what defines a modern quilt to you and what do we do with that room full of stash?  (hint: burning it is NOT an option!)
Workshop
Apply modern piecing techniques with traditional stash.  A fun exercise into the modern quilting universe!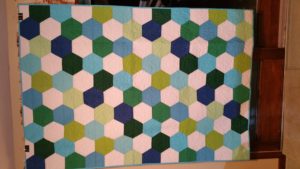 ---
Memory  and T-Shirt Quilts
Lecture
Fabric is more than just clothing; it evokes memories of the loved one w
ho wore it. It smells of them, it feels of them and we remember when they wore it.  Why do we save all those baby clothes?  It is so hard to part with the clothes.  However you do not have to part with all of them!  Turn them into a lasting memory.  Every time you look at these clothes you will remember all the times with this loved one.  From T Shirts to Doggy Bandanas to clothes from a loved one who has passed on to ties, these all are items used to create loving memorabilia. Deconstructing techniques & how to manage all these different fabrics into a quilt.
Workshop
Making a memory!  Create a memory bear using a t-shirt, sweatshirt, onesie, or article of clothing.
---
 History of Barn Quilts
Lecture
Have you seen those large quilt blocks on the sides of barns, houses, businesses, or sheds?  Ever wondered why they are there? While biking through Ohio I often would see these and wondered what was the story behind them.    Understanding the history of the Barn Quilt can inspire you to create your own to go with your story.  Also learn about local barn quilt trails the Upstate New York  area.
Workshop
Do you have a place that needs a Barn quilt?  On your house, shed, garage, porch, or even inside your house.  In this workshop you will make your own 2' x 2' Barn Quilt. Basic painting skills, and patience.   Paints & wood provided.
---
Coming in Spring 2017…
Fold & Sew!  Make it NOW!
Lecture 
Need to make a quilt but don't have the time for traditional piecing techniques?  Learn how to grab fabric today and create a quilt ASAP!  Easy triangles, flying geese, an half square triangles.
Workshop
Experience it! Make a top in an afternoon!
Sample it! Make several of the techniques to remember for later!