Here are some fun projects to create & give.  Click on the name of the project to view the link.  Enjoy!
Baked Potato Bags   Ever want to have a freshly baked potato but don't want to heat up the whole oven?  With one of these Baked Potato Bags you can cook fluffy potatoes in the microwave in a fraction of the time.
sausage-roll-pill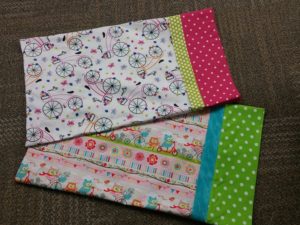 owcase  Yes! This is the easy and quick pillowcase that I love to make to friends.  I create it in half size for travel pillows for my biking friends.
wendas-backpack  A quick backpack to make with just a few fat quarters.  Just the right size for your favorite little one off to preschool!
the-lollipop-tool  The Lollipop Tool!  The newest tool for quilters.  Check out 13 ways to use your lollipop tool to help you create your quilts!