With a passion for sewing, design, quilting and instruction, in 1988 Wen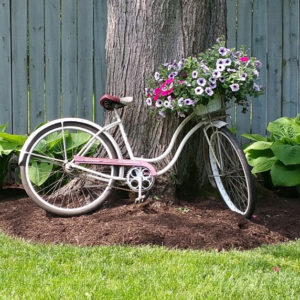 da Coburn started Just For Ewe Sewing, providing a variety of services from traditional tailoring to custom quilt making. Enthusiastic about helping others to experience the joys of sewing, she began teaching sewing & quilting techniques in 1998.
In 2004, she became a certified Square in a Square® instructor and product distributor. In 2007, she earned Square in a Square® Diamond Certification.  In June 2007, Wenda was published in the book "Moving on with Diamonds."
Wanting to finish quilts herself she learned easy machine quilting techniques that gave a beautiful finish.  "Quilting with training wheels" became a signature saying used in many of her popular Machine Quilting classes.  This class led to a development of Quilt-As-U-Go! techniques, quilts, & workshops.
In 2006 she began teaching how to quilt on a Short-Arm machine & quilting frame & offering resources and tools for these home quilters.   In 2009 Wenda published the book Short Arm Machine Quilting. In 2010 and 2011 Wenda was published in the Quilter Magazine with articles on Short Arm Machine Quilting.
Wenda currently works as a Long Arm Quilter/ Quilting Educator in her Liverpool, NY home (when not on cycling adventures!)
Follow Wenda's quilting & cycling adventures on Facebook  www.facebook.com/JustForEweWendaCoburn & Instagram @wendaquilts .