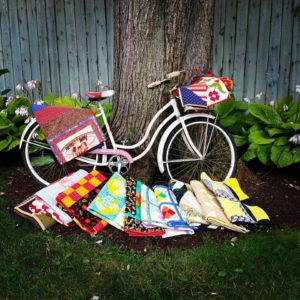 Do you love quilting & learning new techniques?  Take a moment & browse through my many services.
Longarm Quilting is the backbone of my business.  I love to take a quilt and breathe life into it.
Memory & T-Shirt quilts, pillows, & bears are a pleasure to create & in doing so give joy back to someone who may be suffering a loss, or needs to find a home for those never ending t
shirt piles.
While I love creating and quilting, I truly love to help others understand the whys & hows of the mysteries of making a quilt.  My Lectures & Workshops are helpful to the beginner as well as the experienced quilter.  And be sure to stop by my Facebook page for current updates on my Wednesdays With Wenda classes, offered in the Fall & Spring.
Quilters & crafters have a lot of "stuff".  We love it all too! But where do we put it all?  That's where the Professional Organizer can help.  I will help you find a place for all the items you love and create a space you will want to create in!
My Short Arm Quilting book is still available.  
Click here for a description and contact me to order.
Happy Quilting!
Wenda